So, after my
major grump
on Sunday, I am happy to say things are a very lot better. This week at work has been much calmer and much more normal. My lovely boss and I had a big chat about how I should approach things, and I feel much less pressure (which to be fair I was putting on myself, they always just expect me to do what I feasibly can), and enjoyed my week much more. I think the kids did too, so that's pretty great.
Also, the week has had it's fair share of lovely things. On Wednesday, a detour to The Works (who I used to work for!) on an unexpected trip into town to deal with some bank stuff yeilded a wee bit of treasure - A Bloomsbury 21 Edition of 'Johnathan Strange and Mr Norrell' by Susanna Clarke'. It was in the 3 for £5, and among the many and varied other choices, I also found a beautifully designed copy of her 'The Ladies of Grace Adieu'. Isn't it lovely?
On Friday I had another Kimble's lunch with
Mhairi
, as well as trying on a few dress options for
Siobhan's
wedding. I am SO excited about it. So far this is the main contender.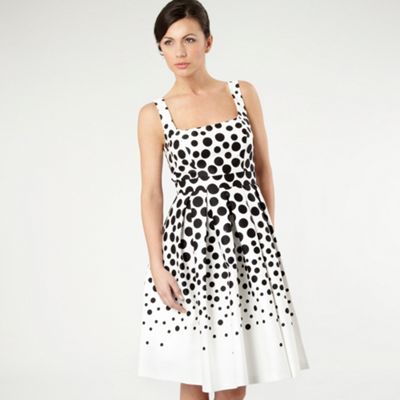 I am aware that it's partially white, but Siobhan has approved it and I plan to wear either red or yellow with it to de-whiten it a bit! The fabric is quite stiff though - wise in London in June? I remember being there in October and it being BOILING.
Yesterday Dave and I had lunch at
T Ann Cake
. It is fairly evident from
my review
that I love the place. Today, I had maybe the best cake I have ever had. It was coconut and lime favoured, and quite similar to my version of
Grace's Coconut Crusted Sour Cream Cake
, but with a little extra sharp-freshness from the lime. And it had the perfect icing:cake ratio (I know loads of people are all about icing, but if there's too much I am suspicious of it). ALSO, while we were there Dave got me this...
...I have been coveting one of these for about two years. I am so chuffed. It's by Stuart Gardiner, and I can be gotten
here
. On the swing-tag is a recipe for drop scones (or Scotch pancakes as some - and I - call them!). And yes, I intend to frame it and hang it in my kitchen. It is too lovely to use. Did I just tick off another box on the blogger cliche list?
Today, in an effort to win my ongoing battle with bread, I am attempting my first sourdough starter. There are some very simple recipes and a step-by-step in this month's Country Living, and it seems so straightforward that I might as well give it a try! If it works, I should be able to make a loaf with it next weekend.
For now, It's time for breakfast, some radio and some chat with the husband.
I hope everyone is having a good weekend.
Oh, and the flat is still pretty tidy! :)